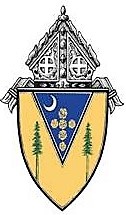 DIOCESE OF SANTA ROSA 2017 ANNUAL MINISTRY APPEAL
The Annual Ministry Appeal, One Family in Mission, helps to support important ministry
efforts. As a Catholic Family, we can do together what no ONE parish can do alone.
When our parish reaches its goal of $27,866 in paid pledges, 100% of the additional funds
received will be returned to us for use in our parish.
You have received a letter from the Bishop containing pledge cards.
You can also donate online at www.srdiocese.org
(Online Giving).
This Sunday (February 26, 2017) we will offer an opportunity to complete a
pledge card during the Mass.
PLEASE PRAYERFULLY CONSIDER
A PLEDGE TO THE 2017 AMA