Start Date: 15 December 2017
End Date: 15 December 2017
Time: 06:00pm
Place: Cathedral of St. Eugene
SIGN OF HOPE MASS
Cathedral of St. Eugene
DEC. 15th at 6 p.m.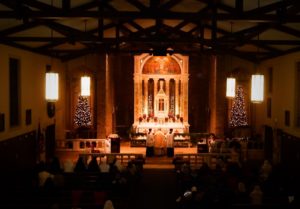 All are invited to attend a Mass offered for those affected by the fires. The Holy Sacrifice of the Mass will be celebrated by Bishop Robert Vasa at the Cathedral of St. Eugene.
The parish communities of St. Eugene, St. Rose, Resurrection, Holy Spirit, and Star of the Valley rejoice in this opportunity to come together as a larger community to pray for healing and the strength to rebuild the greater Santa Rosa community. A reception will follow the Mass in the Msgr. Becker Center.