My Dear People of God,
By now you have all heard the pronouncement from our bishop; "I have determined that it is both prudent and necessary to cancel all Church related Masses and services until the threat of further infection with the Corona Virus is ended. This means that all weekend and weekday Masses are to be cancelled with the exception of the one 'Private' Mass offered by the priest each day without a congregation."
I assured you at the end of each mass last weekend that no matter what happens, I would be saying a daily Mass for you, my people, whether 'locked in' or otherwise. Sadly it is the former, not the latter. Furthermore, for multiple reasons, church will be locked until future notice. This brings me great sorrow as availability and accessibility have always been personal, heartfelt priorities of mine.
People have called and asked what, then, to do in lieu of attending weekend service. I highly recommend and encourage you to pray before images of the Crucified Christ or of saints that you already have in your homes. Also, to read the Scripture Readings which can be found on-line [USCCB.org for one]. There are several TV masses available, EWTN and Heart of The Nation Catholic Mass and The Catholic TV Network, being three. You will have to check what stations they are on through your provider.
I am currently exploring filming or Live-Streaming mass here and somehow making it available to you. I have no idea how to do this – so-if you do – please let me know by calling the office.
Whether you go the TV route or not, I strongly encourage you to allow a time of silence to make a 'Spiritual Communion'. The diocese said it will soon post on-line a suitable Spiritual Communion Prayer. When I receive it I will put it on our website as well.
Even though I said it with some humor previously, financial impact on parishes will be significant, as will it be on individual households. I know you want to support your parish. I want you to take care of your 'local church', that is your 'household', the domestic church's, basic needs first. After that, if you wish, setting aside cash, no matter the amount, in a 'Church donation' basket each week to be contributed when Church reopens is something in which both children and adults could participate. Up to you.
As a Church we have many concerns. We are certainly concerned about the health and safety of all. Nursing home and hospital visits have been suspended by those institutions. Home visits, sick-calls and anointing are greatly restricted as well. But you know me. If you do have a loved one who is near the point of death, make me aware of their situation.
As I write this, it is Day 1 of 'Shelter in Place'. My hopes and prayers are that by or before Day 21 we will be told we can once again resume our regular AND spiritual practices as usual. Although, like after the fires, our 'usual' will be forever changed.
Blessings,
Fr. Ron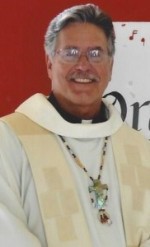 Here is a prayer offered by His Holiness, Pope Francis, during the Wednesday audience held on March 11, 2020:
O Mary,
you always shine on our path
as a sign of salvation and of hope.
We entrust ourselves to you, Health of the Sick,
who at the cross took part in Jesus' pain, keeping your faith firm.
You, Salvation of the Roman People,
know what we need,
and we are sure you will provide
so that, as in Cana of Galilee,
we may return to joy and to feasting
after this time of trial.
Help us, Mother of Divine Love,
to conform to the will of the Father
and to do as we are told by Jesus,
who has taken upon himself our sufferings
and carried our sorrows
to lead us, through the cross,
to the joy of the resurrection. Amen.
Under your protection, we seek refuge, Holy Mother of God.
Do not disdain the entreaties of we who are in trial,
but deliver us from every danger, O glorious and blessed Virgin.