…..from your Pastor's Desk:
Many years ago, before there were 'blogs' or twitter to follow, I wrote a daily meditation that I would send to various friends, confrere's and parishioners via good old fashioned Email. I called it 'MINITATIONS' since it was a short meditation on various topics. A few days ago when looking for another document, I came across the MINITATION 'master-copy'. I scrolled them for a while. Some were quite poignant. Some quite theological, some both and also humorous [actually as you might guess, many had a touch of humor in them].
But one in particular caught my eye and I thought how it might be worthy to reproduce for this Sunday's feast of the Transfiguration. In this feast we celebrate Christ revealing himself in His glorified body to Peter, James and John. A glimpse, a foretaste of what is ahead for all who believe and follow. And we do all have that future hope. But what about now – how does Christ, does God reveal Himself to us now? What if God uses a sort of 'Reverse-Transfiguration'? So, with that in mind…Here is a MINITATION from a long time ago…
GOD IN OUR MIDST I saw God the other day going through my trash bin looking for cans to recycle. I saw God last week picking through the dumpster behind McDonald's. I saw God last month wearing nothing but a dirty diaper and crying, sitting in a shopping cart outside of Wal-Mart. I saw God last night stumbling down Main Street mumbling and shouting, swatting away imaginary bats. I saw God yesterday in a bed at a nursing home where she had been abandoned years ago by her family. I saw God working three jobs to support her four kids when her husband took-up and left.
I saw God when I looked close enough to see Him.
Sometimes I avert my eyes…but God sees me…
Where have you seen God lately?
     Father Ron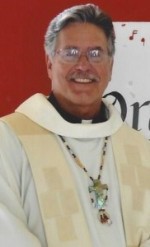 "The spirit of God reminds us daily of our responsibility to care for the poor and those less fortunate because they are the special presence of God in our midst."
— from: 'Living God's Justice'