…..from your Pastor's Desk:
The Assumption of The Blessed Virgin Mary; Tuesday, August 15
"Blessed are you among women, and blessed is the fruit of your womb " – Luke 1:42
The celebration of this feast is held in such high esteem and deemed so worthy that Holy Mother Church asks all the faithful to attend Mass on this day. A day in which the saving power of God in Christ is so focused that it has been deemed, declared and honored as a 'Holy Day of Obligation'.
The feasts of Mary may be puzzling to the casual observer. And some are surprised at the brevity of the dogma of this specific feast in its entirety: "We pronounce, declare and define it to be a divinely revealed dogma: that the Immaculate Mother of God, the ever virgin Mary having completed the course of her earthly life, was assumed body and soul into heavenly glory."
As to how it exactly happened – the Roman Catholic Church never defined any particulars about the event itself.  It is not in the Scriptures. There are no verifiable eye-witness accounts. At its core, the dogma reveals in Mary the destiny of all mortal flesh, and reinforces our creedal belief in the resurrection of the body. This feast strengthens our faith in the realization of "All things hoped for." We find, in Mary, that realization of what we all hope for, as St. Paul says in 1 COR 15:22 'In Christ shall all be brought to life". Where she is, we all hope one day to be.
I hope you look at this more as an opportunity to both deepen your faith and show your love for Our Lady than a mere 'obligation'. Yet, it is that, and we are all required to attend mass on that day as if it were a Sunday. To facilitate this we are offering two Holy Day masses. Holy Days; including Easter and Christmas follow the ancient tradition of 'Sunset to Sunset'. This allows us to have a true and proper 'Vigil' mass the evening of the day before.
Accordingly our first mass will be Monday night at 630pm. I set it at that time so people could either be through with their work day, or, have an early dinner and still fulfill their fasting obligation of 1 hour before receiving Holy Communion. Please note that according to Canon Law Holy Day Masses are NOT said on the evening of the Holy Day – as previously stated – the evening Mass for the Feast is the Vigil Mass the night before.
Here is the schedule of masses, either mass attended fulfills the obligation.
Vigil Mass: Monday Evening at 6:30 pm
Holy Day Mass: Tuesday morning at 9:00am.
This schedule will allow anyone working to come either in the morning ore previous evening. Please plan ahead.
  Father Ron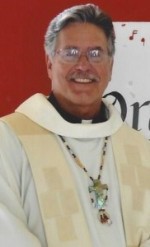 May the Peace of our Lord
And the
Love of Our Lady
Be with all those you Love
And all those who Love you
Now and Forever
Amen