…..from your Pastors' Desk…
Last Sunday we had a 'Ministry Fair'
It was quite the event.
We had a very large tent;
– Under which were tables.
– On which were information sheets about the various ministries, programs and educational opportunities at Holy Spirit Parish.
– Behind which were a member of each group or activity to answer any questions.
And, also, Deacon John and Arlene had a table from which they distributed medals and Holy Cards from their recent trip to Rome where they attended Mother Teresa of Calcutta's Canonization.
We also had food. Gotta' have food. Coffee, juice, water, fruit, donut-holes and pizza.
We did this after each Mass. And many of you came through to get information, or maybe just a donut! Either way, what gave this Pastor's heart great joy was not just to see you looking at the various ministries – but speaking with each other. Some meeting for the first time. Connecting.
Whereas Holy Spirit is known for its Hospitality, I have been to parishes where people who only attend a particular Mass each Sunday, don't even know people who attend other Masses – and both have been going to the same church for years!
I guess the difference is a 'Mass-Station' where people 'HAVE' to go to dutifully fulfill an obligation, to a 'Parish', where people 'WANT' to go to be part of an active living and growing Community. This is what I saw last weekend. But, then again, this is what I have seen God's hand in since got here in July of 2014.
I mentioned the sign-up lists. We had 22 of them. I am still compiling the numbers, but as of this writing [Thursday Morning] we have 161 new signatures and I still have to hear back from 6 ministries. I project over 200 signatures on the various lists. Speaking of which, if you weren't here last week or have thought more about some of the information you received last week – both the signup lists and the info sheets are in the back
of church for your convenience. If the lists are blank, don't worry, yours is not the first name – we are already compiling last week's lists and planning ahead for meetings, classes and the like.
Thanks to all who helped with planning, set-up, and take-down. And thanks to all of YOU, who made it such a success. And Thanks Be to God that we have the Parish Community we do.
As I always say;
The Best – it yet to come!
Father Ron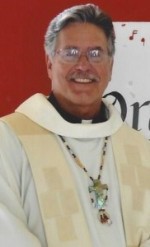 Holy Spirit Ministries
Faith Formation – Children and Teens
Faith Formation – Adult
Sacred Memories [For those who grieve]
Men of Spirit [Discussion Group]
Altar Servers
Facility [Building] and Grounds Committee
Arts and Environment
Men's Club
Women's Club
Music Ministry
Ministry to the Homebound
Children's Liturgy of The Word
Hospitality
Bible Study
Office Helpers
Social Justice
Prayer Chain
St. Vincent de Paul
Ushers/Greeters
Eucharistic Ministers
Lectors [Readers at Mass]
Sacristans