……from your Pastor's Desk
The Baptism of the Lord
And a voice came from the heavens,
"You are my beloved Son; with you I am well pleased." (Mark 1.)
Jesus has just been baptized by John. There's a crowd. Many of them have also just been baptized. Jesus feels the enormity of the occasion. Then, suddenly, something happens to change everything. The heavens open and the Holy Spirit descends in the form of a dove and God speaks to His Son.
What an overwhelming experience it must have been for everyone who witnessed the event. Jesus had shown both acceptance of his humanness and solidarity with the people. The loving words of His Father gave Him strength and courage to set out on the mission that would ultimately lead to the cross. He clearly knew God's Will and what He must do to follow it.
Unlike Jesus who began His ministry with Divine endorsement, few of us can ever be certain that we are totally pleasing God. While we strive to do God's Will, very often it is not clear whether God's Will and our will are the same. We tend to follow our inclination, assuming that since God placed these desires in our hearts, we must be on the right track. When we are nagged by self-doubt, there are two useful questions for self—assessment.
The first is to ask ourselves whether we are at peace – whether personally or professionally. If we spread love and joy, then in all likelihood we are living out God's dream for us.
Secondly, we experience constant chaos within and without, then we may need to pray for clarity and seek advice from those wiser than ourselves.
Father Ron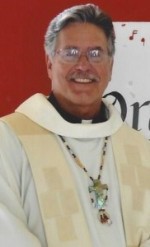 Every now and then I'll ask one of you to put down into writing something we had been talking about to put in the bulletin. I usually call them 'A View from the Pew'. However, in this case, it seems more appropriate to call it: 'A View from the Plaza'.
Fr. Ron
Ordinary Time?
This Sunday we celebrate the Baptism of the Lord, marking the end of the Christmas Season and the beginning of Ordinary Time in the Catholic Church. It is a time that is ordinary because it is numbered, counted, ordinal, not because it is commonplace any more than our current lives are ordinary.
Our routines have been disrupted, but we have found ways to preserve the things that matter most. We have a fundamental need to remain joined in our faith, united in worship, and connected with each other.
Creative approaches such as outdoor mass have been embraced. While outdoor masses enable broader attendance, there is an additional benefit. Parishioners have bonded in their participation to set up and stow everything needed for the mass. It is heartwarming to see how eager everyone, and, at every age, is to contribute. These are not merely tasks, but vehicles for inclusion, integrating us as one in the preparation of the mass. Despite social distancing, there is a great sense of community. There is joy in connecting with each other. Fair weather or foul (under protective canopies), mass is celebrated.
More than ever, society has come to rely on the internet for communication and socializing. Holy Spirit has welcomed this capability. The Holy Spirit website is a wonderful source for news on the parish and spiritual enrichment through the Bulletin and other postings. Faith Formation classes are conducted via Zoom. But those without internet access are not forgotten. Bulletins are mailed to those without computers. And outreach to parishioners continues, offering a connection to those in most need of compassionate support.
I have noticed the commitment made to fill the spiritual needs of our parish. The sacraments are available to the fullest extent possible, as appointments can be made with Fr. Ron for Reconciliation and other sacraments. There have been baptisms, resurrection masses, anointings, marriages and vow renewals. In November, fourteen young adults were confirmed by Fr. Ron in an outdoor setting. What an affirmation of faith and hope for us all as they received the Gift of the Holy Spirit!
On Christmas Eve, we were able to welcome the Prince of Peace in joyful reverence at midnight mass. On New Year's Eve, as revelers in the neighborhood ushered in the new year with shouts and horns, we released our prayers of hope in the tranquility of another midnight mass.
Together we have found ways to once again worship with one voice, in unison and harmony. We continue to serve each other as Christ taught us.
I look forward to the future when ordinary is a little more commonplace, and more fully living the community we are.
Sincerely,
A Long-time Parishioner