……from your Pastor's Desk
As I reflected on the story of the ten lepers Jesus healed [The Gospel for Thanksgiving Day Mass], I found myself thinking about the many times I didn't turn around to say thank you to a friend, my parents, and God for all the graces and mercies I have received and yet to receive.
I was taught to give thanks to God for my daily bread. I was also taught to show gratitude when I receive gifts from others, but sometimes I still forget that thanksgiving should not only be done during the moments I get what I want, but even when I don't. It is sometimes difficult to give thanks during moments in our lives when things aren't going according to plan, and we feel that we have been cheated or given the short end of the stick.
Many of us spend most of our lives waiting for miracles that would affirm our faith, even though we don't say that out aloud. We pray fervently for healing, and we look up crying and pleading, "Jesus, help me! …. Jesus, heal me! …. Jesus, make my life better!" and maybe that is even when we pray most energetically.
Then Jesus hears our plea…he shows up for us, we get that new house, we find that holy partner, we get that meaningful work we have always wanted, we get healed from a painful and bothersome illness, and then we walk away till next time we want something from God.
And yes, there might be some who do turn around to say, "thank you, Jesus," but what happens when we didn't get healed, we didn't get that job, house, spouse, or opportunity we longed for? How many of us would still give thanks in anticipation of greater things to come? How many of us would trust God enough to bless our life with what matters most and what we need, rather than just what we want in the here and now?
If we were to make a list of all the moments, things, and people who give us purpose and give us joy, we might just find that we already have all we really need. In our waiting for our special intentions to be heard and answered, how many of us miss the greatest miracle of the day?
Yes, the miracle that we are here, and we woke up this morning when so many did not. The miracle that we have a chance to start afresh wrapped in God's warm and loving embrace. The miracle that we have yet another day for God to show us the beauty and vastness of our life. So, have we turned around to say thank you, Lord, for a new day, a good day?
It is so easy to forget to give thanks just for the gift of a new day. A chance to reach out to those we love, and maybe even to those who might need to know they are loved. It is a chance to enjoy and give thanks for good food, great friends, wonderful family, even from a distance, and a chance to turn around and say, "thank you, Jesus….I am well now in more ways than one." My friends, what are you thankful for this day? Let's name those blessings, write them down, reflect on them, remember them, and keep smiling about them because when we fill our minds and hearts with gratitude, there will be no room for worry; gratitude and worry cannot share the same space in our hearts and minds. May gratitude have the upper hand today.
And another thing! …
FREE FREE FREE:
I have a pre-Christmas gift for each of you! By popular demand – after each Mass next weekend I will be handing out The Advent Little Blue Books – one for each household. These are similar to the ones I gave you the past five Advents and Lents. I sincerely encourage you to read these brief verses and meditations to grow closer to The Lord before Christmas. I know this is an increasingly trying time, but these few minutes will make Advent and Christmas much more meaningful for you and yours. Spending that short time daily will dramatically change your experience during Advent from one of commercialization to Spiritual openness. Please take one home and continue our Advent and Christmas Tradition! If you cannot attend mass, the books will be available to pick up at the office during office hours.
Many Blessings to you and yours,
Father Ron
PS—
I thank God for you!
The Solemnity of Our Lord Jesus Christ, King of the Universe:
This Feast Day is enhanced by asking, and answering a few questions:
Who is Jesus? What does He mean in your life ?
We call Him Messiah or Christ. Do those words mean anything to you personally?
We call Him Savior, Redeemer and Lord. What effect does this have in your life?
In the Scriptures, He is called Son of David, Son of God and Son of Man. Are those just words, or do they have a meaning for you? The Church is constant in seeking ways to express the mystery of Jesus, the Christ. Each title for Jesus should have some meaning for our lives.
Today we use the title 'King'. This title may have little relevance in our democratic world. But by this title, we seek to recognize that Jesus is the heart and center of our lives.
We live for Him. We find the meaning of all things in Him. We accept His rule over our lives, and we live by His code of morality. It means that we strive to follow His will and to serve Him in everything we think, say and do.
May Christ be King in your heart, now and always, All-Ways.
Father Ron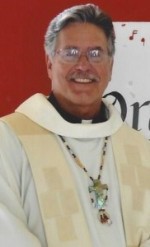 Thank you to everyone for your on-gong contributions to the
Parish. Despite juggling Mass times and covid isolations, you
astound me with your generosity. It is very re-assuring to know
we can count on you for your continued support to keep the parish
in good financial health.