…..from your Pastor's Desk:
A Sign of Hope…
It has been two months since that fateful night in October. As of this writing, to my knowledge, our Parish suffered no loss of human life. But for those who lost animals, houses, businesses, vehicles, places of employment; the suffering continues. In some cases suffering has even increased as secondary causes are actualized. For those who
were evacuated in the middle of the night, but had homes to return to, even if a week later, the memories are still raw, but life has somewhat returned to normal. And, for those who were not evacuated, even overnight, it may seem that things did not change much at all.
But things did change. And they changed for everyone mentioned above. As I drive around town I see that the 'Thank You First Responders' signs are already fading and some have fallen and been removed. Truly, we cannot thank them enough. I do not know that we can ever calculate how many lives they did save going from door to door – into the fire. But God knows.
And God also knows the healing that is needed. God knows the pain, suffering and fear that so many of us experienced and, still experience. Every time I hear a fire truck, every strong wind that blows and even a red-glow of just a sunset – cause me to pause. We may try to 'tough-it-out', but that is not such a good idea. A common expression of those who have driven through the areas of total destruction is that it looks 'like a war zone'. I've been in war zones. Let me tell you, some of these look worse. However, the effect of shock, near death experiences and being up rooted and not knowing what will happen next…is very much like so many feel, civilian and military, adult and child, that have been through a life and death battle; and somehow came out on the other side. And, it is not over.
It's not over and now we face the future of rebuilding. Yes buildings – but more importantly – lives. And we should not seek to do it alone. If anything positive came out of the fires is that it created a 'community'. Looking around at the people gathered at the Vet center – you saw no zip code or street address. No bank statement or retirement plans. You saw people – huddled together – trying to help each other.
Helping each other is what we continue to do. Second responders, third responders and on and on as needed. Praying together and sharing stories.
Sharing stories is what we did our first Mass back here at Holy Spirit after the evacuation was lifted. Sharing prayers and stories is what the 'Sign of Hope Mass' – (see below), is all about. I encourage all of you who lost your homes to attend this Mass. And, as well, all who were otherwise deeply affected by the events of that night and following Saturday. Healing is needed. Come to the mass and reception to share stories – to listen to others, to network and strengthen the community. I know I need it – I'll be there.
Father Ron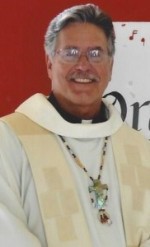 All are invited to attend a Mass offered for those affected by the fires. The Holy Sacrifice of the Mass will be celebrated by Bishop Robert Vasa at the Cathedral of St. Eugene.
The parish communities of St. Eugene, St. Rose, Resurrection, Holy Spirit, and Star of the Valley rejoice in this opportunity to come together as a larger community to pray for healing and the strength to rebuild the greater Santa Rosa community. A reception will follow the Mass in the Msgr. Becker Center.
Please RSVP to Marty McCormick at marty@mccormickloans.com