……from your Pastor's Desk
Taking a 'Guilt Trip' this Lent?
Have you ever seen the T-Shirts that say "I survived Catholic Guilt'? There is some humor in that, but, in actuality – Guilt is good. Well, in proper proportion anyway. Therein lies the rub. Like so many other things that CAN be good – we tend to over indulge in it – especially during Lent. Guilt is a normal, God-given reaction to sin. Let me explain. Guilt is the spiritual counterpart to the physical sensation of pain. As pain saves us from being seriously hurt or warns us that we need medical attention, so guilt warns us that something is wrong spiritually. Guilt is part of reality. The question is not: "Will I go on a guilt trip?" All human beings will go on guilt trips. We can't help it. The question is: "When and where and for how long will I go on a guilt trip?"
If we deal with guilt by repenting immediately and taking a short guilt trip to Jesus' forgiveness, we receive love, mercy, and freedom from our sins. If we delay our guilt trip and hope we won't need to take one, we'll eventually take one anyway. The longer we wait, the worse it gets. And, if we take a guilt trip not to Jesus' love, but to our self-pity, or human efforts, our guilt can then lead to shame (shame results when we try to deal with guilt by our own power). Shame is self-hatred. And God certainly does not want us to hate ourselves. Therefore, when we sin, we should repent immediately and take a short guilt-trip to Jesus' forgiveness.
Lent is a Journey to Easter, not a Guilt Trip to Shame. Life is a Journey, not a Destination. May we all meet at Journeys End – in the Heavenly Realm.
The Sacrament of Reconciliation [Confession] is the best way to get off the Guilt-Trip and back on the Journey. I am available for private appointments. Our regularly scheduled time for Confession is posted on the front of the bulletin. This year's Lenten Confessions will be on April 1st, starting at 6:30pm (as seen below). Multiple priests will be available, including bi-lingual [Spanish – English]. We will stay as long as needed. I asked you to think of one sin you want to champion this Lent – this is a good opportunity to name it, claim it, be absolved of it and be done with it!
Blessings, Fellow Travelers.

Father Ron
APRIL 1st – MARK YOUR CALENDAR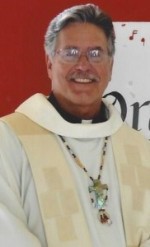 PARISH CONFESSIONS: Or Reconciliation, or Penance. No matter what you first learned it to be called – we are having them April 1. And, no, THIS IS NOT AN APRIL FOOLS JOKE!
There will be four priests available: Monsignor Dan Whelton – Vicar General/Chancellor/ Moderator of the Curia, Fr. Aaron DePeyster [bi-lingual English/Spanish] Pastor of Resurrection, Fr. Moses Brown [bi-lingual English/Spanish] – Director of Religion Department and Chaplain for Cardinal Newman High School, and myself – Fr. Ron – Simple Parish Priest!
We will start at 6:30 pm sharp with a quick intro of the priests, an opening prayer and then get right to it. We will stay as long as necessary. If it has been a while since your last Confession – don't worry – we will gently walk you through it. There will also be sheets available about how to go about it and also the Act of Contrition to say at the end. Gentle, peaceful music will be playing in the background.
So – hope to see you then and—NO—THIS IS NOT AN APRIL FOOLS JOKE! :]