……from your Pastor's Desk
Transfiguration
This week we have the wonderful gospel of the Transfiguration of Jesus. For one brief  moment, his disciples are allowed to see what lies ahead for all that follow his way.
We begin our own 'transfiguration' while still on earth, not so much achieving 'glorified body', but transforming our heart, our spirit, our soul into the Lords.
This is done by acts of charity and mercy, and also by spending time in conversation with God, in what we call prayer, in its many forms.
But as soon as we set time aside for prayer, we can easily be distracted one way or another. So this week's exercise is:
Take a pad of paper and pen or pencil and write down any distractions that interrupt prayer. Maybe it's a phone call you need to make, or an errand you have to run, or document or item in the house you need to find. If it interrupts your prayer time, write it down and deal with it later.
Do this each day of the week. Be prepared to have a running list. You might be surprised how long that list may be! But make the time each day to do it. Keep the list handy… and then pray.
SCRIPTURE FOR THIS EXERCISE: The beatitudes are found in the Gospel of Matthew chapter 5, verse 1 and following. (Matt 5:1-11)
Take one of these each day and pray for guidance as to what God is teaching you about your life specifically that day with that particular Beatitude.
May this be a week of 'spiritual transformation' for you!
God bless you,
Father Ron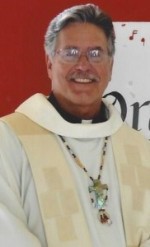 How can I be of Service to my parish?
Many ways. But here are two in immediate need.
Homebound Visitation Ministry. We have parishioners who, due to infirmity or disability cannot make it to Church for Mass. But they have a longing to be a part of our community and a great desire to receive Jesus in Holy Communion. You would be blessed to bring them the Eucharist and spend a little time with them. Believe me, when you leave each one – you will feel you are the one who received Jesus, and, in a very special way – you did. It is in giving that we receive. This does not have to be an every week commitment. But we do need to address the need now as some of those who visited are now homebound themselves.
Audio Visual. If you attend the 5pm or 10:15am Masses you know what this entails. Someone to run the 'board' so the slides and songs and pictures can be changed on the large screens at the appropriate times. Thom O'Neill has been doing it all until now, but we want to get him some assistance. It would also be nice to have someone to do the 7:30am Mass as well. So, if you have 'mad-skills' in technology – or just want to learn how to run our system, this for you. And it's fun too!