……from your Pastor's Desk
Things to do during Lent: We are all asked to embrace the practices of Prayer, Fasting and Almsgiving during Lent.
Fasting: The directives for fasting were posted in the bulletin a few weeks ago and I do encourage each of you to add a "small fast" of something each day. It could be as simple as no sugar in your coffee or no second cup of coffee. Perhaps eating a bit less food at each meal or skipping the bread or dessert works for you. These small gestures add up and you will feel the difference. And fasting does not apply to food only – you can also fast from internet or TV time a bit each day.
Almsgiving: We had a wonderful presentation last weekend of our parish-wide Lenten Almsgiving effort to provide for a Children's Recourse Navigator, coordinated through Catholic Charities. You have always been very generous with our special collections and I know that each of you is aware that God will bring a person [or persons] before you with whom He asks you to share time, treasure or talent. Do not let these Grace-filled moments pass you by.
Prayer: The idea is to add more prayer in your daily life. You all have the Lenten devotional books I gave you. If not there are more available. Church is open every day from 8:00 am until dusk. Stop by for a visit. Daily Mass is at 9 in the morning, Monday through Friday. Thursdays there is a Holy Hour with Benediction from 9:30-10:30 am. Confessions are also heard during that time. Fridays we have Stations of the Cross from 6:30 pm to 7:00 pm.
Come to all or one. I do strongly encourage you to make the effort to attend some of these services. Not so much that I care about numbers – but I want you to receive the spiritual benefit, the blessing of time with Our Lord and His people.
God Bless and keep you,
Father Ron
APRIL 1st – MARK YOUR CALENDAR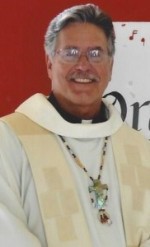 PARISH CONFESSIONS: Or Reconciliation, or Penance. No matter what you first learned it to be called – we are having them April 1. And, no, THIS IS NOT AN APRIL FOOLS JOKE!
There will be four priests available: Monsignor Dan Whelton – Vicar General/Chancellor/Moderator of the Curia, Fr. Aaron DePeyster [bi-lingual English/Spanish] Pastor of Resurrection, Fr. Moses Brown [bi-lingual English/Spanish] – Director of Religion Department and Chaplain for Cardinal Newman High School, and myself – Fr. Ron – Simple Parish Priest!
We will start at 6:30 pm sharp with a quick intro of the priests, an opening prayer and then get right to it. We will stay as long as necessary. If it has been a while since your last Confession – don't worry – we will gently walk you through it. There will also be sheets available about how to go about it and also the Act of Contrition to say at the end. Gentle, peaceful music will be playing in the background.
So – hope to see you then and—NO—THIS IS NOT AN APRIL FOOLS JOKE! :]