…..from your Pastor's Desk:
Palm Sunday
We begin Holy Week by remembering Christ's triumphal entry into Jerusalem. I say triumphal but actually it wasn't very triumphal at all. Yet, greeted by the poor and downtrodden, it was indeed a procession and it  certainly marked the formal entry into Jerusalem of Christ the long awaited Messiah.
The key concept we need to employ here is the one of paradox. If you want to understand anything about Jesus then you have to understand paradox. Everything is the opposite to what it seems and all that He does appears to the outside world as a contradiction.
If Christ is the Messiah, the long heralded King of Israel, the King of all Kings (and He is all these), then His entry into Jerusalem should have been accompanied by all the signs and trappings of earthly kingship. There should have been a splendid welcome laid
on by the Levitical priests and the whole populace should have been out to meet Him with the great and the good at the very front.
But what we actually have is a mixed crowd of people waving palms and singing Hosanna. Some might have not even known Him, but where caught up in the frenzy. So inconsistent and unreliable a bunch were they, that we have no trouble assuming that some of them might even have turned up in the crowd who shouted "Crucify him" later that same week.
But this fits in well with everything we know about Jesus. He shuns the limelight, He avoids publicity, He is one who is completely uninterested in outward appearances and is only concerned with things of the heart. He is indeed the ultimate paradox.
Here is a King who wants to rule by means of love alone, a King who wants not to dominate but to serve, a King whose greatest interest is in humility and lowliness rather than honor and power. Here is a King who gives his life for his people.
We begin today a very serious week of prayer and increased devotion as we shift our focus more closely to the suffering and death of Christ. It is a week during which we accompany Christ in his last hours and draw close to him in his suffering and death. It is a week during which we face up to our own sinfulness and express deep sorrow for our  transgressions. It is a week of increased faith and trust in God.
I urge each and every one of you to take this week seriously. Yes we all have to go to work and do whatever it is we do during every other week of the year, but it is vital that we make this week different. It is essential that we make this a more spiritual week, a week of renewed prayer and deep devotion.
The Church observes this week in its liturgy, but also at certain times by its lack of liturgy. We celebrate mass on Monday, Tuesday and Wednesday as usual, but we do so thinking most especially about those days in Jerusalem and what they have come to mean.
On Holy Thursday we celebrate no morning mass but instead the solemn liturgy of the Lord's Supper in the evening (6:30pm) after  which the altar is stripped and the Blessed Sacrament removed to the Altar of Repose.
Then on Good Friday again no mass is celebrated but instead we have the very moving Liturgy of the Passion at three o'clock during which we commemorate Christ's death on the Cross in a most solemn way.
Again on Holy Saturday there is one single liturgy of the Easter Vigil when we light the Easter Fire and celebrate as well as we can, the Resurrection of Our Lord Jesus Christ.
This mass, in following the rubrics, will also begin at 8pm (not 5pm).
It is important to attend these ceremonies, it is essential to mark these important events which are so vital for the life of the world.
Everyone else in the world takes advantage of a couple of vacation days off work to give themselves some leisure time and we should do the same. But we must not neglect the liturgy; we must not neglect our Christian duty to commemorate in a liturgical way
these crucial incidents in the life of Christ.
Today we begin. We sing Hosanna and wave our Palms. We remember that paradoxical procession that entered Jerusalem; that brought the King of Creation into the Holy City on the back of a Donkey. We rejoice and we acknowledge that we are citizens of heaven, true members of his Kingdom of Love. This week we shift from Jerusalem to the agony of His Passion and death as told in the Gospel of Mark. This day is an 'Overture,' if you will, of the days to come.
Fr. Ron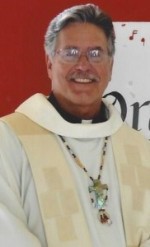 Fr.Ron