……from your Pastor's Desk
My Interruptions ARE My Work!
Okay, you have a plan to do something and just enough time to get it done. But, when you start you are interrupted in some way. Someone comes along that you were not expecting and detains you or sets you off tract and you don't get to do what you set out to do at the time you intended to do it.
Sound familiar? It has happened to us all. If you are a certain personality-type you can get very annoyed by this. You can be there waiting for the person to move on so that you can get back to doing what you think you are supposed to be doing.
But…every encounter, however unplanned, can have a positive effect. What seems like an interruption can put us in just the place we were meant to be. There's an interruption of this positive kind in today's gospel. A man named Jairus begged Jesus to come to his daughter who was desperately sick. While Jesus was on the way to visit the sick girl, he met another sick person, a woman suffering from hemorrhage, and this meeting delayed him getting to Jairus' house. It took up some precious time, even though the woman with the bleeding merely wanted to touch the cloak of Jesus.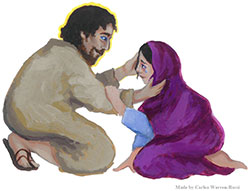 It was Jesus himself who turned it from a fleeting encounter into something more, a real meeting of a life-giving kind. This story encourages us to look at interruptions in a more positive light. What can seem like distractions can bring us where the Lord is calling us to be. If one of our plans does not work out, it can create the space for something that we did not plan but which turns out for the best. In Jairus story, Jesus brought great good from the interruption, and the woman was healed in both body and soul.
So, next time you plan something, and have just enough time to do it – don't be too surprised if God has you doing something else. It will all work out – in God's time – which is infinite.
In the meantime – keep up the good work!
Father Ron