……from your Pastor's Desk
Start up your time-machines or jump into your DeLorean – because we are going 'Back To The Future'.
Here is an excerpt from our Parish bulletin dated July 13, 2014. Which was, coincidentally, the 15th Sunday in Ordinary Time, Cycle A – just like this weekend. And which, coincidently, was the first weekend of my assignment here. So…
"I don't think I've stopped smiling since Monday when I arrived. Words cannot express how happy I am to be here. I have always had a special place in my heart for Holy Spirit parish [my first] and enjoyed over the years stopping by here for various Masses or Memorial Services. I honestly always hoped that one day I could return, and by the Grace of God – here I am!"
That was six years ago. Seems like less sometimes. But, with all the power outages, the fires, the evacuations and now, the pandemic, sometimes it seems like much more.
Yet here we are. Survivors. Although it would be hard to tell so now, with many folks choosing to stay at home, for precautionary measures – the parish has grown substantially. Many new faces. Many new families. Many new programs and projects.
We also lost some parishioners. We've commended over 90 parishioners into God's loving hands in these last six years. In fact, as I write this last Wednesday, I've just finished a service for a long-time parishioner. And, this coming Tuesday I have another service for one who was 101!
It has been an interesting six years. Many personal and personnel issues had to be dealt with. But we have. Many tears have been shed. Sad tears and happy tears because we've also had many Baptisms and Weddings and First Holy Communions and Confirmations.
So, here we are again: 15th Sunday in Ordinary Time, Cycle A—but now—2020!
Hey, I don't know about you, but six years later – I'm still smiling, well, mostly.
And, as has been my Valediction for many years:
The Best is yet to come!
I still believe that. I believe it because of you. You who have stood strong through all that this faith community has been through, especially the isolation and not being able to worship or socialize in person with your Holy Spirit brothers and sisters.
Now, as far as the future goes. Who knows? Regulations, restrictions, allowances and permissions seem to change daily as far as our people being able to 'go to church'. You know what though, that's okay. The church, although a Sacred Space, is just a building. YOU are the church. And I know that you are still 'out-there'. And I know you are taking care of each other. That's cool. You got it!
And I look forward to the time when we can all be together again.
God Bless You.
All those you love.
And all those who love you.
Father Ron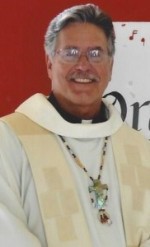 Prayer to Overcome Racism
Mary, friend and mother to all, through your Son, God has found a way to unite himself to every human being, called to be one people, sisters and brothers to each other.
We ask for your help in calling on your Son, seeking forgiveness for the times when we have failed to love and respect one another.
We ask for your help in obtaining from your Son the grace we need to overcome the evil of racism and to build a just society.
We ask for your help in following your Son, so that prejudice and animosity will no longer infect our minds or hearts but will be replaced with a love that respects the dignity of each person.
Mother of the Church, the Spirit of your Son Jesus warms our hearts: pray for us.
Amen.
Copyright © 2018, United States Conference of Catholic Bishops, Washington, DC. All rights reserved.