……from your Pastor's Desk
Something a little different this week. I've had many conversations these last few months with many of you about your faith experiences during the 'Shelter in Place' and with all the restrictions regarding attending public services. I had just such a conversation with someone last week when I asked; "Can you put that in writing so I can share it in the bulletin, like, a 'View from the Pew', that is, a parishioner's perspective?"
The answer was "Yes".
Father Ron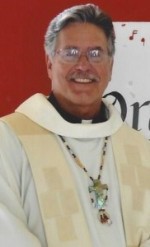 …A View from the pew….
Community
This week the "View from the Pew" has reverted again to a virtual view. Much too short was the time we were able to gather as the community we are meant to be. And while the few weeks mass was celebrated with limitations, there was the joy of unity. The Mass was once again what it was meant to be, a community, a celebration of the last supper. With more than a camera lens as a focus, it was evident that Fr. Ron reveled in his pastoral vocation, serving the spiritual community. The family was reunited.
During the soft opening, daily mass was attended by larger numbers than pre-pandemic. We were hungry for the Body of Christ, both in the Eucharist and in congregation.
With the pandemic restrictions, public gatherings are not possible. While the recorded mass is not ideal, there is solace in seeing mass at our parish and hear our choir, our lectors, and our pastor. The Holy Spirit community has been sustained by personal outreach to parishioners through phone calls and mailings and on-line classes. Daily homilies afford access to the wit and wisdom, guidance, history, and lessons of the readings. And Hope, always Hope.
The resumption of restrictions is enough to dishearten the most cockeyed of optimists. Just as it appeared headway was being made toward normality, the doors closed again. However, we have been supported, comforted and grown in unexpected ways. I have a deeper appreciation for the members of our parish, the sacrifices they make to help others and the love they demonstrate daily in commitment to Christ's teachings. This has been a time of intense reflection and recommitment to values. We are rich in Faith.
I look forward to the day when we will gather again. We will gather as a community to celebrate the spiritual growth in our parish, with baptisms, first communions, and confirmations. The celebrant's voice will not echo in the empty church, but be absorbed both literally and figuratively by a congregation. I look forward to the day when, with one voice, we will pray The Gloria, The Creed, and The Our Father. When after the blessing, in unison, we proclaim, "Thanks be to God."
from: A long-time parishioner.